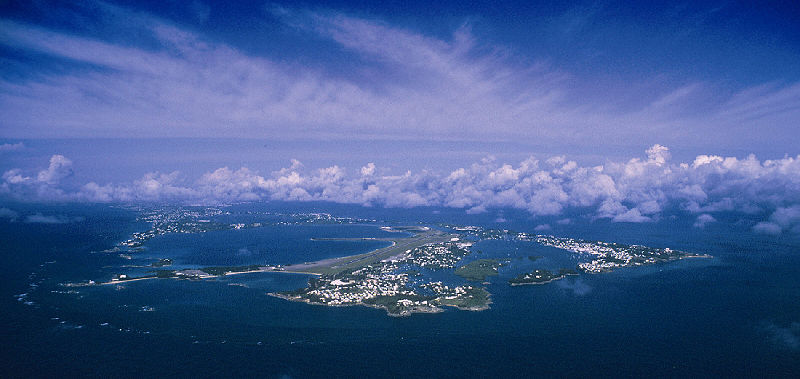 One of the nine smallest places in the world, in total land area. 21 square miles or 53 square kilometers, compared to the USA's 9.629 million square kilometers.
The whole of Bermuda is tiny by world standards - with a land area of only 21 square miles or 56 square kilometers. It includes all the islands mentioned above. Residents and visitors can travel from one end to the other in just over an hour and from north to south in 10 to 15 minutes. Scientific theory has it that what we know today as Bermuda began some 100 million year ago as a volcanic mountain, with the volcanoes having disappeared 70 million or so years ago.
Some oceanographers say the Bermuda Rise juts up from the deep Atlantic Ocean floor in the form of three steep- sided mountains, the largest of which supports the Bermuda Islands we know today, on the southern margin of a shallow water platform, with Challenger and Argus (or Plantagenet) Banks to the southwest. Others say the Bermuda Rise is five mountains including the more distant Bowditch and Muir Seamounts (the furthest of which is about 150 miles to the northeast).
The Bermuda Mountain is longer - 32 miles - than the land area width and much wider - 16 miles wide - than the maximum land width of 1.5 miles. At sea, the Argus and Challenger Banks are round and about 6 miles across.
Below the level of limestone and 450 feet below sea level is volcanic rock; and below that, only black lava and other igneous volcanic rock. Only in one place in Bermuda - 60 feet below sea level at the southern end of Bermuda International Airport -is volcanic rock found so near to sea level.
The other name - the Somers Isles - commemorate Bermuda's British founder father, discoverer in 1609 and colonizer, Admiral Sir George Somers, when it was not populated at all. In 1612 the Bermudas, then the Somers Islands, were in the third charter of the Virginia Company. More English colonists arrived specifically for Bermuda. The charter was revoked in 1684 when Bermuda became a British crown colony. However, it was once referred to as Virgineola, in its 16th century brief period as a dependency of Virginia.
Today, Bermuda remains a (nominal) British possession, a completely self-governing British Overseas Territory, with its own laws - not those of the United Kingdom. No UK laws apply in Bermuda and Britons are just as much foreigners as are Americans, Canadians, Europeans, Asians and other citizens.