---
Caines Family Generations
---
Home I About The Caines Family I Bermuda 2011 Cruise I Family Photos I Family Tree I Contact Us I Family News I Search
HOW TO COOK CHICKEN
<![if !vml]>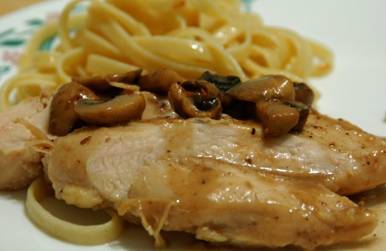 <![endif]>
<![if !vml]>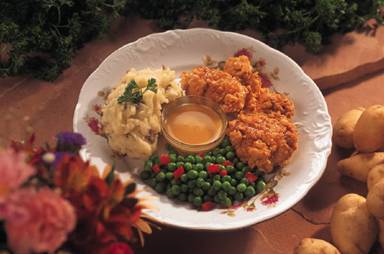 <![endif]>
---
Preparation
When asked about how to chicken, the first thing that came to mind was the preparation. To me this is the process which sets up the flavor of chicken for any recipe you choose.
The first step of the preparation is the cleaning of the chicken; which includes a vinegar bath where the chicken is soaked in water and vinegar even some say that: "Rinsing or Soaking Chicken
It is not necessary to wash raw chicken. Any bacteria which might be present are destroyed by cooking". I used the soaking and washing process to remove any fat of cartilage which I don't want (My main parts of the chicken is the boneless Breast and wings).
---
The second step and most important is the seasoning; which I like to do at least 24 hours before cooking; there are some 10 to 60 minute marinades
BASIC SEASONINGS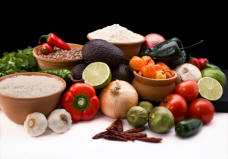 No matter what recipe I use the following seasonings as the base for chicken
· Garlic
· Chicken seasoning (McCormick's or Lawry's have a combination of salt, paprika, celery seed, and other herbs in there seasoning)
· Mrs Dash is a good base seasoning especially if you want eliminate or lower the amount of salt from your diet
· Celery seed also gives your chicken an additional flavor you may enjoy
For frying the above dry seasonings is good, but if you don't mind the salt; use a Seasoned Salt (again McCormick's, or Lawry's)
For Styr frying use the above dry seasonings then marinade in Soy Sauce or a Teriyaki marinade (if using breast which what I recommend you can cut up the breast in strips and place in the marinade or If you are going to marinade and cook at later date leave breast whole and freeze)
For Lemon chicken; you can use the base dry seasoning, then squeeze fresh lemon juice over chicken and add lemon pepper marinade let marinade over night or at least 60 minutes before cooking
Now as for cooking itself it depends on recipe you like; and there is several sources of good recipes… try www.cooks.com for things like:
· Baked Chicken Parmesan
· Chicken Kabobs
· Orange Pineapple Honey Chicken
Also Publix has weekly recipes which are very good, simple and quick. The last one for chicken was Pasta & Chicken with fennel. I will send the recipe to you.
Mostly I use the breast for Styr fry, and grilled chicken for salads and wings for frying.
---
Styr Fry
You can also grill the breast (not overcooked, since the breast will dry out if over cooked – when grilling cook one side for about 3-4 minutes depending on the thickness, not more than five minutes per side) and then add to your Styr fried veggies
<![if !vml]>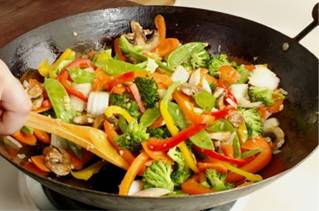 <![endif]>
Olive oil – enough to cook fry pan (1 to 2 tablespoons)
Recommend fresh veggies – some Publix's have bagged Chinese cabbage (Bok Choy)
Also try Napa – a Chinese lettuce, sliced thinly
Bean Sprouts
Mushrooms (if you like)
Broccoli (there is also bagged fresh veggies with broccoli, carrots, etc.)
¼ Soy Sauce
¼ water
2 teaspoons of corn starch
Cook the amount you like for a single meal, leftovers tend to loose it flavor.
Add oil and veggies, cook at medium to medium high temp for about 4 to 5 minutes stirring constantly to avoid burning until veggies begin to soften slightly, then add grill chicken, stirring again for about 2 to 4 minutes. Add 2 teaspoons corn starch to ¼ cup of water and ¼ cup of soy sauce mix together and pour over the Styr fry.
---
Other Recipes
Crusted Chicken with Creamy Pepper and Mushroom Sauce
from http://www.mccormick.com/Recipes/Popular-Dishes/Chicken.aspx
=red bell pepper and mushroom sauce perfectly complements crusted chicken. It's a dish that's good enough for company.
<![if !vml]>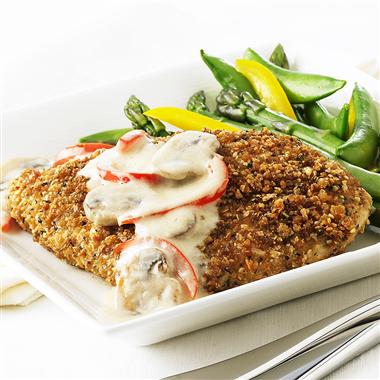 <![endif]>
Makes 4 servings.
Prep Time: 15 minutes
Cook Time: 25 minutes

INGREDIENTS4 boneless skinless chicken breast halves (about 1 1/4 pounds), pounded to 1/4-inch thickness
1/2 cup McCormick® French Onion, Pepper & Herb Crusting Blend
2 tablespoons olive oil
2 tablespoons butter
2 cups thinly sliced mushrooms
1/2 cup thinly sliced red bell pepper
3/4 cup heavy cream
1/4 cup sherry or Madeira wine
DIRECTIONS
1. Moisten chicken lightly with water. Coat evenly on both sides with Crusting Blend. Discard any remaining Crusting Blend.

2. Heat oil in large nonstick skillet on medium heat. Add chicken; cook 5 minutes per side or until cooked through. Remove chicken from skillet; keep warm.

3. Melt butter in same skillet on medium heat. Add mushrooms and peppers; cook and stir 7 to 8 minutes or until mushrooms and peppers are tender. Add cream and sherry; bring to boil. Cook 4 to 5 minutes or until sauce is slightly thickened. Serve sauce over chicken.
Tips
Test Kitchen Tip: Remove tenders from chicken breasts before pounding for more even thickness.
NUTRITION INFORMATION
per serving
Calories: 520
Fat: 33 g
Carbohydrates: 13 g
Cholesterol: 168 mg
Sodium: 669 mg
Fiber: 3 g
Protein: 41 g
---
Home / Recipes / Lemon Garlic Chicken
Lemon Garlic Chicken
from http://www.mccormick.com/Recipes/Main-Dish/Lemon-Garlic-Chicken.asp
• Low Calorie • Low Carbohydrate
This classic chicken dish is special enough for company, yet easy enough for your family. Serve with Savory Orzo, buttered noodles or rice.
<![if !vml]>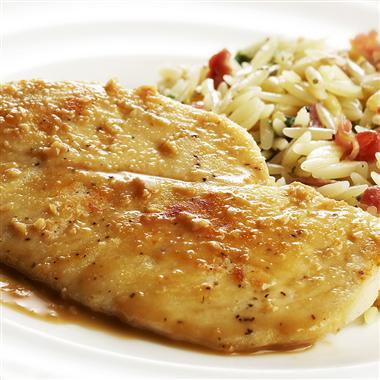 <![endif]>
Makes 4 servings.
Prep Time: 10 minutes
Cook Time: 20 minutes
INGREDIENTS
1/4 cup flour
1/2 teaspoon salt
1/2 teaspoon McCormick® Black Pepper, Ground
1 pound thinly sliced boneless skinless chicken breasts
3 tablespoons olive oil, divided
2 tablespoons white wine
1 tablespoon McCormick® Garlic with Extra Virgin Olive Oil or 1 tablespoon McCormick® California Style Minced Garlic made from Fresh Garlic
1 cup chicken broth
1/4 cup lemon juice
Chopped fresh parsley and lemon slices (optional)
DIRECTIONS
1. Mix flour, salt and pepper in shallow dish. Moisten chicken lightly with water. Coat evenly with flour mixture.

2. Heat 2 tablespoons of the oil in large nonstick skillet on medium-high heat. Cook chicken in batches, 2 to 3 minutes per side or until golden brown. Add remaining 1 tablespoon oil as needed. Remove chicken from skillet; keep warm.

3. Stir wine and Garlic Blend into skillet, scraping up browned bits from bottom of skillet. Stir in chicken broth and lemon juice. Bring to boil on medium heat. Reduce heat to low; simmer 5 minutes or until sauce has reduced by half. Spoon sauce over chicken to serve. Garnish with chopped parsley and lemon slices, if desired.
Tips
Lemon Pepper Chicken: Prepare as directed. Substitute 2 tablespoons McCormick® Perfect Pinch® Lemon & Pepper Seasoning for the salt and pepper. Omit lemon juice.
NUTRITION INFORMATION
per serving
Calories: 270
Fat: 14 g
Carbohydrates: 8 g
Cholesterol: 73 mg
Sodium: 592 mg
Fiber: 0 g
Protein: 28 g
---
Chicken Penne With Fennel
From http://www.publix.com/aprons/meals/MainDish/RecipeList.do#Poultry
<![if !vml]>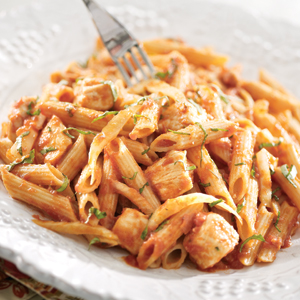 <![endif]>
Ingredients
1 cup fennel (thinly sliced)
1-oz bag fresh basil
3 boneless, skinless chicken breasts (1.75 lb)
1 tablespoon olive oil
2 cups penne (or other medium) pasta
1 cup fresh pre-diced onions
1/2 teaspoon dried Italian seasoning
1/4 teaspoon kosher salt
1/8 teaspoon pepper
1 (24-oz) jar marinara pasta sauce
Prep
Bring water to boil for pasta.
Remove leafy green top from fennel; slice fennel bulb.
Stack basil leaves; slice into thin strips.
Steps
Cut chicken into 1-inch pieces (wash hands). Preheat large sauté pan on medium-high 2–3 minutes. Place oil in pan then add chicken; cook and stir 2–3 minutes or until browned. Cook pasta following package instructions.
Stir in onions, fennel, Italian seasoning, salt, and pepper; cook and stir 2–3 minutes or until vegetables soften.
Stir in pasta sauce; cook 3–4 minutes or until sauce is hot. Toss sauce with pasta; top with basil and serve.
CALORIES (per 1/4 recipe) 440kcal; FAT 12g; CHOL 125mg; SODIUM 820mg; CARB 30g; FIBER 2g; PROTEIN 47g; VIT A 25%; VIT C 35%; CALC 20%; IRON 15%
Shopping List
Add items to your grocery list by clicking on the <![if !vml]>

<![endif]>next to any item below.
The icon will change to <![if !vml]>

<![endif]>to indicate that it has been added.
Utensils & Cookware
large stock pot
large sauté pan
colander
cooking spoons
knife and cutting board
measuring utensils
Apron's Advice
Complete your meal with green beans, warm garlic bread, and tiramisu for dessert.
You can make a delicious salad with the remaining fennel. Combine with spinach and oranges, then toss with a citrus vinaigrette.
<![if !vml]>

<![endif]>